About Reston Business Campus
Reston Business Campus was constructed in 1986 and consists of four, one-story, multi-tenant office/light industrial buildings totaling 83,000 net rentable square feet on a 7.6 -acre lot. Additional improvements include landscaping enhancements, installation of decorative parking bollards, new exterior wall packs on all buildings and asphalt improvements.
The Property is located in Herndon, Virginia, approximately 15 miles west of Washington, DC, and one stoplight from the intersection of Fairfax County Parkway and Dulles Toll Road. Equidistant to Reston Town Center and Worldgate Plaza; both of which have numerous options for hotels, restaurants, banking, fitness centers, convention centers, etc.
The current tenancy is office/light industrial use.
PROPERTY OVERVIEW
ADDRESS
Reston Business Campus
12320/12330/12340/12350 Pinecrest Road
Reston, Virginia 20191
SIZE
Gross square footage: 82,988SF
No. of floors: Single Story
Typical floor plate: 12320 - 20,750 SF
12330 - 21,090 SF
12340 - 20,750 SF
12350 - 20,395 SF
BUILDING STRUCTURE

Structural System: Reinforced Concrete.
Structural Capacity: The buildings utilize structural steel frame supporting bar joists and corrugated metal roof deck.
Ceiling Height: 9-11' - ceiling height
LOBBY INTERIOR
Common areas serving multi-tenant structures are limited to corridors and toilet rooms finished with typical materials.
RESTROOMS
Porcelain ceramic tiled floors and walls with complementary vinyl wall covering at all other wall surfaces. Vanities and full width mirrors are provided at all lavatories.
HVAC
Each suite space is serviced by individual HVAC units on the roof of the building that provides heating and cooling.
ELECTRICAL
A 460 volt 3-phase power system distribution to the electrical closet at each of the buildings.
FIRE SYSTEM
All buildings on the property are 100% sprinklered and comply with NFPA13.
TELECOMMUNICATIONS
One telecommunication closet located at each building, serviced by Verizon, provides capacity and availability for tenant service.
The property is Verizon FIOS Ready
SECURITY
Kastle provides 24/7/365 building monitoring on entry doors for Buildings 12330 and12350 only. Other suites can be monitored individually at tenant's expense.
PLUMBING
Buildings 12330 & 12350 feature common area restrooms and drinking fountains. All other restrooms are located within the individual tenant suite.
WINDOW COVERINGS
Windows are typically non-operable, aluminum frame, double pane insulated with mini-blinds.
PARKING
The buildings offer a parking ratio of 3.5/1000 sf and has ADA accessibility and handicap parking where required.
Total Parking Space 303 Spaces including 17 handicap.
SITE PLAN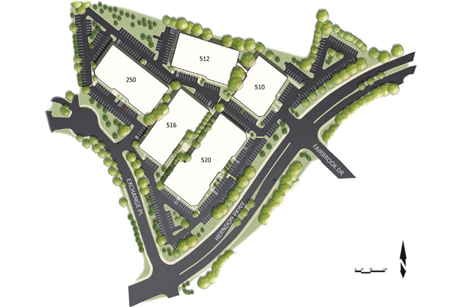 PROPERTIES
Reston Business Campus 1
12320 Pinecrest Road
Reston, VA 20191

Building Type - Flex
Total SF - 20,750

Reston Business Campus 2
12330 Pinecrest Road
Reston, VA 20191

Building Type - Flex
Total SF - 21,090

Reston Business Campus 3
12340 Pinecrest Road
Reston, VA 20170

Building Type - Flex
Total SF - 20,750

Reston Business Campus 4
12350 Pinecrest Road
Reston, VA 20191

Building Type - Flex
Total SF - 20,398